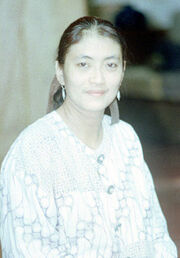 Jajang C. Noer (juga dikenal dengan nama Jajang Pamontjak; lahir di Paris, Perancis, 28 Juni 1952; umur 59 tahun) adalah seorang aktris film asal Indonesia. Ia adalah pemenang Festival Film Indonesia tahun 1992 dalam kategori Aktris Pendukung Terbaik melalui film Bibir Mer. Suaminya adalah Arifin C. Noer, sutradara film asal Indonesia yang meninggal dunia pada Mei 1995.
Pranara Luar
Ad blocker interference detected!
Wikia is a free-to-use site that makes money from advertising. We have a modified experience for viewers using ad blockers

Wikia is not accessible if you've made further modifications. Remove the custom ad blocker rule(s) and the page will load as expected.