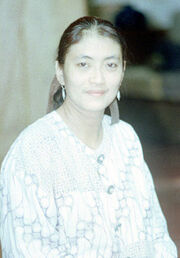 Jajang C. Noer (born Lidia Djunita Pamontjak on June 28, 1952) is an Indonesian actress and film producer. She won the best actress award at the Indonesian Film Festival in 1992 for her role in Mer's Lips. She was married to film director Arifin C. Noer and he died in May 1995.
Pranara Luar
Ad blocker interference detected!
Wikia is a free-to-use site that makes money from advertising. We have a modified experience for viewers using ad blockers

Wikia is not accessible if you've made further modifications. Remove the custom ad blocker rule(s) and the page will load as expected.