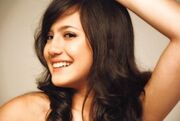 Pevita Cleo Eileen Pearce (lahir di Jakarta, 6 Oktober 1992; umur 19 tahun) adalah pemain film Indonesia. Gadis berdarah Indo (ayah dari Inggris) dan (ibu dari Banjarmasin) dari pasangan Bramwell Pearce dan Ernie Auliasari ini dikenal lewat film Denias, Senandung di Atas Awan (2006) sebagai Angel. Film tersebut adalah pengalaman pertama Pevita dalam berakting di film layar lebar pertamanya tanpa sedikit pun pengalaman bermain sinetron.[1]
Di akhir tahun 2007, Pevita bermain kembali dalam film Lost in Love yang tayang bulan Mei 2008. Dalam film ini, Pevita mendapat peran utama sebagai Tita dan bermain bersama Richard Kevin yang akan berperan sebagai Adit. Pevita mendapatkan peran Tita melalui serangkaian proses seleksi panjang mulai dari sekitar 1.100 pendaftar hingga mengerucut delapan orang dan dari film Lost in Love, Pevita ternominasi sebagai Pemain Utama Wanita Terbaik FFI 2008[2]
Pada tahun 2010, Pevita telah menjalin hubungan kasih dengan Nino, personel grup band RAN.
Tahun 2011, kemampuan aktingnya kembali dijajal. Dalam penggarapan film Dilema Movie, yang akan segera rilis, Pevita ditantang berperan sebagai seorang lesbian.
Pranara Luar
Ad blocker interference detected!
Wikia is a free-to-use site that makes money from advertising. We have a modified experience for viewers using ad blockers

Wikia is not accessible if you've made further modifications. Remove the custom ad blocker rule(s) and the page will load as expected.