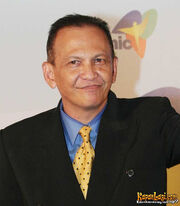 Wicaksono Abdul Salam
lebih dikenal sebagai
Roy Marten
(lahir di
Salatiga
,
Jawa Tengah
,
1 Maret
1952
; umur 59 tahun) adalah seorang
aktor
Indonesia
yang terkenal di tahun 1970-an sampai awal 1980-an.
Roy memulai kariernya sebagai peragawan di Salatiga. Roy pernah memenangkan King Boutique di Jawa Tengah, baru hijrah ke Jakarta. Roy merupakan anak ketiga dari enam bersaudara dari pasangan Abdul Salam dan Nora. Putra pertama adalah Rudy Salam (artis), kedua Melani Kusuma (wiraswata katering di Jakarta), ketiga Roy Marten, keempat Eri Salam (notaris di Semarang), lalu Ronny Salam (wiraswata koperasi simpan pinjam), dan si bungsu Chris Salam (pengacara dan artis).[1] Zaman keemasan Roy adalah di tahun 1977 saat dikenal sebagai salah satu dari kelompok bintang "The Big Five", terdiri dari: Yati Octavia, Robby Sugara, Doris Callebaute, Yenny Rachman, dan Roy Marten. Disebut demikian karena kelimanya menentukan honor terbesar saat itu, Rp 5 juta, sekali main film. Tahun 1977 pula tercatat Roy membintangi film terbanyak sepanjang kariernya.).[2]
Setelah industri film nasional 'pingsan', Roy beralih ke layar kaca dan membintangi beberapa sinetron, antara lain Bella Vista I, II, dan III serta Kupu-Kupu Kertas dan Hanya Kamu.
Ad blocker interference detected!
Wikia is a free-to-use site that makes money from advertising. We have a modified experience for viewers using ad blockers

Wikia is not accessible if you've made further modifications. Remove the custom ad blocker rule(s) and the page will load as expected.