Wulan Guritno

Actress

name

Wulan Guritno

hair

Brown

nationality

Twitter

IMDb

years active

1998 - present

eyes

black

Occupation

Actress,Producer, Presenter,Business Woman

Film Awards

- Favorite Sports Presenter in Panasonic Awards 2005 (nominated)

- Best Supporting Actress in Festival Film Indonesia 2005 (nominated)

- Best Actress in Festival Indonesia 2006 (nominated)

- Most Favorite Supporting Actress in MTV Indonesian Movie Award 2007 (winner)

- Best Actress in Festival Film Indonesia 2008 (nominated)

- Favorite Actress in Indonesian Movie Award 2011 (winner)

- Best Supporting Actress in Festival Film Indonesia 2011 (nominated)

- Favorite Actress in Indonesian Movie Awards 2012 (winner)

Company

- Poetre Wax & Spa

- WGE Pictures
Wulan Lorraine Guritno (born in London, England, 14 April 1980, age 31 years) was an Indonesian actress who act in film Gie and Promise Joni.She is of mixed blood of Java (precisely Solo) [1] - England and height 168 cm.
Wulan Guritno career began as presenter in the Italian League Highlights on RCTI television station which later became the Lega Calcio. A year later, during World Cup 2002 took place,she (again) believed to host World Cup-Tainment on RCTI television station broadcasting the World Cup acquire rights in Indonesia.
The profession continued as she became the presenter of Euro 2004 on the same television station. Wulan also been active in Indonesia, 2007 in League events Lativi and Highlight Formula 1 on Global TV.
Besides in presenter, Wulan also be a sitcom actress and feature films.She co-starred in the film Gie and Promise Joni. In Gie,she played with Nicholas Saputra. Gie (2005) directed by Riri Riza. The film tells the story of a character named Soe Hok Gie, University of Indonesia student who is better known for demonstrators and nature lovers.
The film is lifted from a Demonstrator's Note by Gie, Wulan's role as one of the co-GIE. At the Festival Film Indonesia 2005 has won three awards,each in the categories Best Film, Best Actor (Nicholas Saputra), Best Cinematography and Stylists (Yudi Datau). Wulan also starred in several films such as Catch Jakarta, Joni's Promise, Naga Bonar and Automatic Romantic.
Besides films,she starred in several soap operas including Prohibited never fall Love, Lured, Love, and Two Hearts Converge. Besides acting, Wulan also been a film director. From her hands, Wulan spawned her first indie film, entitled Midwives man (Bidan lelaki).
In Dilemma Movie, Wulan role as Rima, a lesbian tomboy who sneaky and do anything to get money.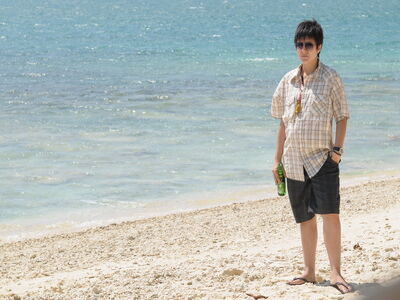 Ad blocker interference detected!
Wikia is a free-to-use site that makes money from advertising. We have a modified experience for viewers using ad blockers

Wikia is not accessible if you've made further modifications. Remove the custom ad blocker rule(s) and the page will load as expected.